Tarsem To Direct Big Screen Samurai Jack?
Indian director Tarsem is riding high after getting his Greek Myth opus The Immortals to open to #1 around the world last weekend, and in press for the movie he let it drop that he hopes to someday direct a big screen adaptation of Genndy Tartakovsky's Cartoon Network series Samurai Jack. At the premiere for The Immortals, Tarsem told The Hollywood Reporter that while he has little interest in making a comic book movie, he would "love Samurai Jack. I would love to direct that. It's brilliant. The speed, it embraces where it comes from. I find that comic strip films are halfway grounded. They don't play my chord. But I love Samurai Jack. I love the animation."
The series, which ran for three seasons from 2001-04, told the story of an ancient Japanese warrior lost in a strange futuristic time trying to find his way home. It didn't have much room for dialogue or story really, but had awesome visuals and kinetic action sequences, so after having seen The Immortals I could totally see Tarsem make a pretty kick ass Jack movie. This isn't the first time a Samurai Jack flick has been rumored by the way; last time it was Brett Ratner who wanted to make it. Suddenly Tarsem doesn't sound so bad now does he?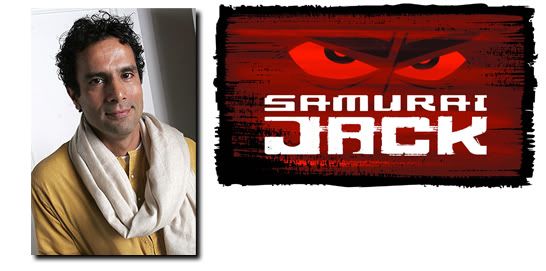 Harry Potter's David Yates To Direct Dr Who: The Movie
Yes people, we have reached that point…the point where they are rebooting properties while the original properties are still running. It sounds like a joke, but it's not. Harry Potter 5-8 director David Yates is in the early stages of joining with the BBC in making a big screen version of Dr. Who. Yes, the same Dr. Who that is still currently running and has been since 2005. This new version will have no connection to the current television version, and seems to just be an attempt to use the name and basic premise to make yet another big budget sci-fi spectacle. Here is what Yates had to say about his take on the beloved Doctor:
"We're looking at writers now. We're going to spend two to three years to get it right. It needs quite a radical transformation to take it into the bigger arena."
"Bigger Arena" = Less plot, more action/effects, if you read between the lines. Hey, it worked for the Star Trek reboot, but that franchise was dead. To do this to a currently thriving series seems so, so weird. And potentially confusing. The question is, which needless reboot will make it to theaters first, this one or Battlestar Galactica? Or will it be Buffy? Or none?
Akira Casts Kirsten Stewart? Take The Gun Out Of Your Mouth Now Geeks.
The news about the live action remake of anime classic Akira keeps getting worse and worse with each passing week. As if the the whole white washing/race bending of the project wasn't bad enough, Warner Brothers seems intent on casting shitty actors in the main roles like Garrett Hedlund from TRON, and now it seems they've made an offer to Twilight's Kristen Stewart for the female lead. This is dumb, not just because Stewart plays snotty, bored and aloof in every role she's in (even as Joan Jett! Seriously, watch The Runaways) but because the Twilight factor is pure poison to every movie that isn't Twilight. Male moviegoers want nothing to do whatsoever with the Twilight franchise they are forced to sit through in order to get a blow job that weekend from their girlfriends, and female Twi-hards don't want to see their Twicons (see how I made a new word there) in anything but their famous roles. Just look at the box office takes for Robert Pattinson's Water for Elephants and and Taylor Lautner's Abduction. Where were the obsessive fans then?? If they aren't vampires or werewolves, the girlies just don't wanna see 'em and ruin the illusions that that's who they really are. So do us geeks at least ONE favor Warners, and find someone who is not Kristen Stewart and who is actually talented and not just doing it for the paycheck.
Tim Burton's New Movie Sounds Just Like A Tim Burton Movie

Is Supposed To
Although he's still wrapping up shooting on two different movies right now (Dark Shadows and Frankenweenie) Tim Burton is already looking for his next project. It was reported this week that Burton is looking to direct a live action adaptation of the recently released novel from author Ransom Riggs, Miss Peregrine's Home For Peculiar Children. The plot of the novel, according to Deadline.com who broke the story, "involves Jacob, a 16-year-old whose childhood was filled with stories his grandfather told him about an orphanage for unusual children. Among the residents: a girl who could hold fire in her hands, another whose feet never touched the ground, and twins who communicated without speaking. When his beloved grandfather dies unexpectedly but leaves a message behind for his grandson, the teen heads off to his grandfather's home on an isolated island off Wales. There he discovers the abandoned remains of Miss Peregrine's Home for Peculiar Children. It is in great disrepair and as Jacob explores its bedrooms and hallways, he can see the children were more than peculiar, they might have been there because they were dangerous. And he can't shake the feeling they are still lurking around." Yup, this sounds right up Burton's alley, but at least it is based on a relatively fresh novel and not some old television show like Dark Shadows or the rumored stop motion Addams Family movie.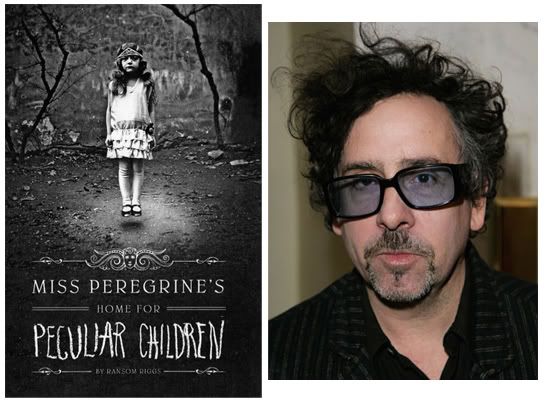 Despite his sell-out movies of the past decade (Alice in Wonderland, Charlie and the Chocolate Factory and worst of all, Planet of the Apes) Burton occasionally still does something that reminds everyone why we loved him in the first place. Sweeney Todd was one recent example, Big Fish another. This sounds like something that fits squarely in the Burton wheelhouse and still be something he can be passionate about, certainly more than another big screen version of the Addams Family or something. I remain optimistic that the Burton who gave us Pee-Wee's Big Adventure, Edward Scissorhands, Ed Wood, Beetlejuice and Jack Skellington still lives in there somewhere.
Bryan Fuller Revives The Munsters For NBC
Speaking of reviving old pseudo goth tv shows from the 60's like Dark Shadows and Addams Family, it seems producer Bryan Fuller is looking to do the same for the small screen with a new version of 60's classic series The Munsters for NBC. On the offset, the idea of a Munsters revival (their second, there was a "New Munsters" in the late 80's) sounds downright awful. But then, Bryan Fuller's Pushing Daises was brilliant, and his other short lived series Wonderfalls got equal acclaim. Could Fuller actually make something interesting out of what sounds like a soulless cash grab?? The pilot is said to feature "striking visuals mixed with all the classic Munsters archetypes." Pushing Daisies also had really striking visuals, especially for a weekly show, so this I can believe. In fact, it often looked pretty Tim Burton-y if I do say so.
The description in the original Deadline article shows that this series will feature the "origin story" of the family, with Grandpa Sam Dracula being the one who assembled Herman because no man was good enough for his daughter Lily, a sexy vampire herself. Lily's niece Marilyn the freak is actually normal, and Lily and Herman's only child, Eddie, has his werewolf tendencies surface in puberty. None of this sounds too far off what the classic series was. Now, I've always been more of an Addams Family guy myself; while the Munsters looked cool, they were essentially a boring normal suburban family in freak drag. The Addams not only looked weird, they were weird. They were the real deal. If anyone can take the Munsters concept though and make it kinda cool and Addamsy, I'd say Fuller has as much a chance as anyone. Now lets see if this gets past pilot stage, or ends up a bootleged cautionary tale like the failed Wonder Woman pilot.
Justice League Movie Rumor # 1,452
I think I keep running every rumor in regards to a big screen Justice League movie in the hope that if I keep reporting it, it'll become real. I'm a DC boy till the end ya see. The latest rumor comes from little known comic book site Cosmic Book News, and it's a doozy. Ok, this is probably bullshit, which is why I'm running this last, but it's the JLA and a rumor, so I'm gonna add fuel to the fire. 'Cause that's what I do. Here is what they had to say:
"Plans are being put together for Justice League movie for either a 2015 or 2016 release. DC Entertainment will be spearheading the film, and it will be distributed by Warner Bros. and Legendary Pictures. Geoff Johns, DC Comics Chief Creative Officer and Co-Producer on the Green Lantern movie, will be on the Justice League movie as an Executive Producer, and will be doing the initial treatment for the film before a writer is brought on to pen the screenplay."
There's more in the original article, about not only a Green Lantern sequel leading into a shared DC Universe onscreen, but also how a Man of Steel sequel would come before a Justice League film. The only reason why I might add any credibility to this rumor at this point is the notion that Geoff Johns is coming up with the treatment for the script. Just about everything in his new rebooted Justice League book from DC reads like a screenplay for a big budget movie.I can't help but think this is John's intent here. Marvel's The Ultimates ended up being a key inspiration to their upcoming Avengers movie, could DC be looking to do the same?