Carrie Remake Gets A Director
The remake of Stephen King's classic novel Carrie that I mentioned a few months back has started to pick up steam for MGM and Screen Gems, which is probably not a good thing if you ask me. According to Deadline, it now looks like director Kimberly Pierce, who most famously made the movie Boys Don't Cry over a decade ago now, is the person who landed the job. Even though Boys created a big debut splash for Pierce, not to mention getting an Oscar for lead actress Hilary Swank, after that Pierce more or less vanished from movie making. She directed an episode of The L Word, and then returned to features for the 2008 flick Stop Loss…. and that pretty much covers it. I wish Pierce the best of luck, because she's gonna need it. Sissy Spacek and Piper Laurie turned in the performances of their lives with the original version, and topping those is gonna be tough to say the very least. They attempted to with a TV movie a decade or so back, and that failed to inspire anyone.
It will be interesting to see how this story works for modern kids; certainly the bullying angle hasn't changed much since 1976 when the original movie debuted, that's for damn sure. Even though I imagine 90% of the target audience of teens and twenty somethings for this new movie have never seen the original, much like Psycho, everyone knows what the climax of the movie is…it is part of our cultural consciousness now. It doesn't matter if you've seen the original or not. With the surprise essentially ruined by years of pop culture parodies and references, what will they change to make this version stand out? Maybe a version with an alternate ending, where Carrie just has a great time at the Prom, and runs off with her prom date Tommy Ross and leaves her crazy ass mother to rot? Oddly enough, every year or two when I pop in my DVD of Carrie, I think to myself "It would be nice if one day I turn this movie on, and Carrie just has a damn happy ending. Just this one time." If Pierce gives us THAT twist…then I might become an advocate of this movie.
Trek 2 FINALLY Gets Its Villain
Well, the villain for Star Trek 2 has been cast finally, and it turns out it isn't anyone who had been rumored before. Benedict Cumberpatch, best known for playing the title character in the BBC series Sherlock, has nabbed the part once thought to be Benecio del Toro's, and then rumored to go to a few other actors after he turned it down for money reasons. Although who the villain is going to be is still under wraps, the casting of pasty white, skinny and Anglo Cumberpatch indicates that it will not be Khan (although I guess stranger things have happened) Cumberpatch is having quite the year; aside from starring as Sherlock Holmes, he is the voice/motion capture artist for Smaug the dragon in The Hobbit, and was also in Steven Spielberg's War Horse and Tinkor, Tailor, Soldier, Spy.
In another indication that JJ Abrams and the producers of Trek are avid BBC watchers -aside from casting Spaced star Simon Pegg for the first movie of course- is the news that another part for Trek 2 has been filled by Dr.Who alum Noel Clarke. So far, there is no name given for the role, but Variety reports that Clarke will be playing "a family man with a wife and young daughter." Which really tells us nothing. Still, nice to see more than one person of color in the original Trek cast for a change. Filming should begin soon for the new Trek, so if expect an avalanche of Trek news and rumors for the rest of 2012. Fair warning for the New Year.
Kanye And Jetsons: Two Words You'd Never Thought You'd See Together In A Sentence
Welcome to the first WTF news item of 2012. MTV ran a piece this week that Kanye West was being tapped as "creative director" for the upcoming Jetsons movie that absolutely no one wants (remember The Flintstones movie? That's why no one wants a Jetsons movie) I'm not sure what a "creative director" for a movie is; I mean, a movie has a producer and a director and an art director…is art direction the job Kanye is going for here? I just don't remember ever hearing the title "creative director" for a movie before.
Jetsons producer Denise Di Novi had this to say when quizzed by MTV about the Jetsons/Kanye connection this week: "Kanye's always been a Jetsons fan, I think because he's so into design and he loves the design aspects, So we had a fun brainstorming conversation….We heard that he knew we were working on the Jetsons. He reached out and said he's a huge Jetsons fan. There are a lot of Jetsons fanatics out there, especially people that are into either futuristic science or design. He was interested in creatively brainstorming what we were doing with the movie and what ideas he might have. It was a really friendly, preliminary conversation." Who knows if anything will ever come of this, The Jetsons has been in some form of development for almost twenty years at this point, and then someone always realizes that it is a terrible idea and pulls the plug. STILL…the part of me that loves a good cinematic train wreck involving high profile pop stars kind of hopes this gets made. It's the part of me that paid to see Burlesque.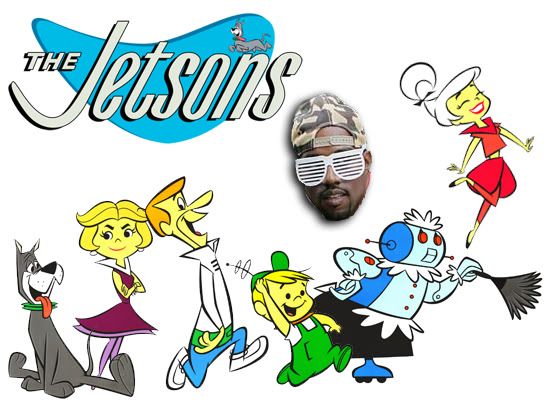 Killer Klowns To Get Evil Dead II Style Requel
If you're a film geek who frequented Mom n' Pop video stores in the 90's, or watched cheesy movies on USA Up All Night with Rhonda back in the day, chances are you have a soft spot for cult classic Killer Klowns from Outer Space. After years and years of rumors, it seems that finally creators Charles, Edward and Stephen Chiodo, often referred to simply as "the Chiodo Brothers", are said to be working on a 'requel,' in other words, part remake of the original film and part sequel. (think Evil Dead II) Grant Cramer, who starred as Mike Tobacco in the original movie, is set to return to "be the mentor to the two new young leads that have to try save the world from the Klowns when they return." Right now, the Chiodo Brothers are looking to get the proper funding for this one, but all signs are pointing to this one finally happening this time. Too bad Up All Night isn't around anymore.