Writing a review for a film like Inglorious Basterds, the latest from geek auteur Quentin Tarantino, is a difficult task. It's a movie that you can't really discuss without spoiling the things that make it great. It's also something you have to experience for yourself in order to really understand. Few other directors can craft such a unique and complete world. Every line of dialogue and camera movement put there with a purpose and with a perfectionists precision (we can just forget about that half assed Death Proof).
So, do yourself a favor and skip this review until you've seen the movie, and you SHOULD see this movie. It is not without its faults but you will not see a more audacious, grand piece of filmmaking this year. You will not see better performances this year. You will not hear better dialog this year. You will not see a bigger tribute to film this year. This is one of Tarantino's best.
Ok, now that you've done that, feel free to read ahead to see my spoiler-ish criticisms of this brilliant film.
Inglorious Basterds is a strange one. It's a movie where every single scene is great. I loved everything I saw. Yet, there is, at the same time, too much and not enough. The film is structured like a novel. It consists of several (five, if memory serves) chapters and each chapter feels like a short film unto itself. This lends the movie a unique feel and each chapter is brilliant on its own. However, the novel structure just doesn't really work on film. It kills momentum. You lose sense of the overall plot and who the main character even is. When the fiery climax of the movie occurs, it doesn't have the impact it feels like it should. When a certain historical figure is violently disposed of in a fantastic piece of revisionist history, your joy comes from your own knowledge of this person, not because the film properly built up to this event. Quentin has built a world here and populated it with wonderful characters, but you are only getting snapshots.
Speaking of wonderful characters, go ahead and give Christoph Waltz his Oscar. The race is over. As the "Jew Hunter" Col. Hans Landa, Waltz creates one of the best villains to ever grace the screen. Every moment with him is full of energy, every word a veiled threat. He is a character with a smile on his lips and the devil in his eyes, and he is terrifying. He is also quite possibly the main character of the film, despite what the advertisements would lead you to believe. Brad Pitt and his Basterds actually don't get that much screen time. The movie is really about Hans Landa and Shosanna Dreyfus, played wonderfully by the striking Melanie Laurent. At its heart it is Shosanna's revenge movie, and it is full of the grindhouse flair that you'd expect from a vengeance flick, despite the fancy WWII dressing.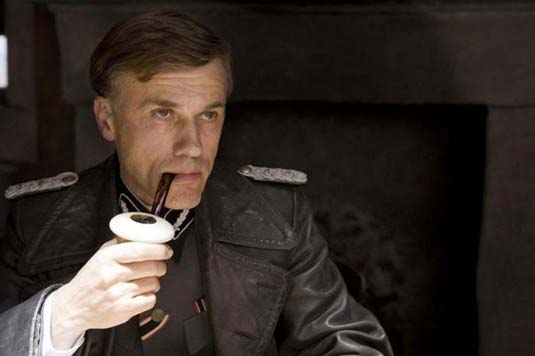 We actually learn very little about the Basterds, we learn of their legend but we don't get to know the people. Only three are given any semblance of a backstory. Most don't have any lines and serve only as faces in the background. This is somewhat unfortunate. It would have been nice to get introduced to the team and give each member a unique personality, to see each of them have their specialty and their moment to shine. There is a great moment when we are introduced to Til Schweiger's Hugo Stiglitz where we get a stylish and anachronistic backstory segment and it makes it seem like we will get this for each of the Basterds. But no, it only happens this once, which makes it feel a bit odd. As it stands, we understand these characters only as much as the Germans do. They are mysterious, larger than life, and threatening. They are legends, always looming in the back of our minds, but they are never people we get to know. Perhaps that was the point.
Brad Pitt is fantastic as the leader of the group. His accent may have been off putting in the trailer but works wonderfully in the film and lends itself to one of the best jokes of the movie. Actually, accent and language play an incredibly important part in Inglorious Basterds. Many different languages are present and the movie is mostly subtitled, and language isn't only used as a method of lending authenticity. It serves story purposes and is used as a strategy in the verbal chess matches that litter the movie.
Yes, like all Tarantino flicks, this is a very talkative film. It's a movie about people talking about what they've done and what they are going to do instead of a movie about people carrying out those actions. There is very little actual action, as a matter of fact, yet Tarantino uses his dialog the same way he'd use bullets and explosions. There are battles, no doubt about it, but they are battles of words, of body language, of hidden meanings. The first chapter, which is actually my favorite of the entire film, involves an interrogation between Landa and a French farmer, played by Denis Menochet who only appears here yet gives one of the most memorable and subtle performances of the movie, suspected of protecting Jews. This interrogation is performed with a great deal of formality and pleasantness. A situation where two men are trying their best to appear casual while both knowing that this is a life and death situation. Just watching these men maneuver through the conversation, trying to get the upper hand, trying to conceal their moves and motives, is fascinating. It's more tense and engrossing than any action scene could be, and the climax is startling and heartbreaking. This chapter serves only to give the character of Shosanna a motivation for revenge and could have been handled quite quickly and efficiently, but Tarantino draws it out and turns it into its own mini-movie and that's the wonderful thing about Inglorious Basterds.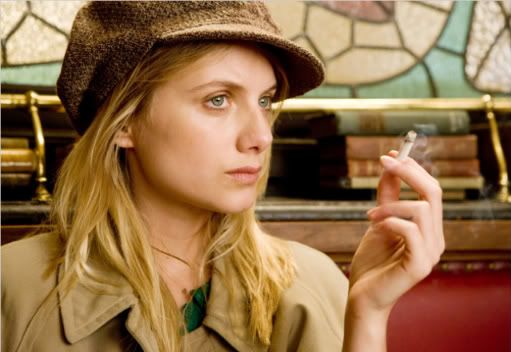 Another treat for movie buffs is the fact that this is as much about film as it is about revenge or war. Like all Tarantino films, he wears his influences and love of film on his sleeve. This is, all at once, a spaghetti western, a grindhouse film, a 40's war epic, and a propaganda film. The climax of the movie takes place in a theater during a film premiere from one of Germany's top directors. Film is quite literally used as a weapon. This is the kind of movie that makes you love movies, and that's perhaps the best thing I could say about it.
There are other things I could talk about, from the multitude of wonderful and wonderfully brief performances (Mike Meyers, Eli Roth, BJ Novak, Diane Kruger, etc.) to how stunningly beautiful it is (props to Quentin and DP Robert Richardson), to the great bits of ultra-violence (courtesy of KNB) but you should see it for yourself (and hopefully if you've read this far you already have). It may not be the movie I enjoyed most this year, it's not something I love unconditionally, but it is the one that I will likely think about and revisit more than any other. It's too ambitious and awesome not to.
From the web