Take a moment and try to image a very special movie. A movie that would be produced by George Lucas — don't worry he won't be directing or writing so you won't get the Star Wars Prequels again. No, the movie will be directed by Francis Ford Coppola, the genius behind The Godfather and the not-so-genius-but-fun Bram Stoker's Dracula. Throw in the might, magic and money of Disneyland and you have a picture to have a nerdgasm to. Of course, this flight of fancy doesn't exist in a magic fairytale land, it exist here in the real world. Who had the power to draw of these forces in, to lure such talent together? That unifying factor was none other than a pop star with a severe Vitiligo, none other than Michael Jackson. And together, with their film, they changed the world (or at least had a song in it about changing the world).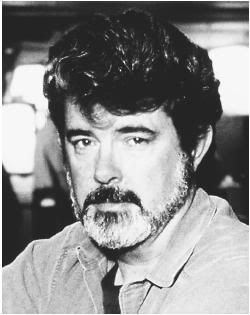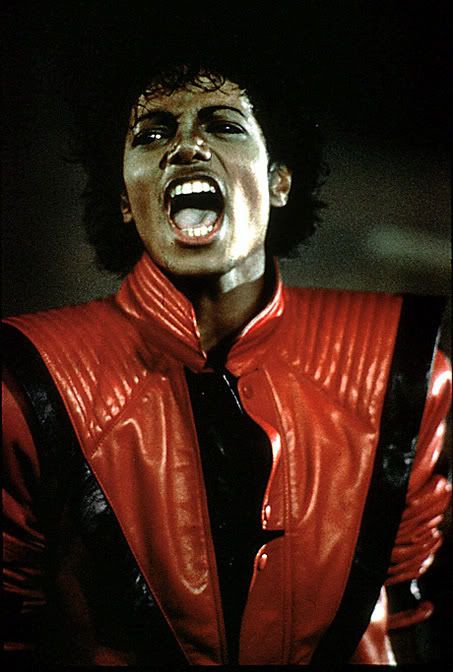 I know you are really, really sick of Michael Jackson, but how can you be sick of Captain EO? You remember the excitement you had of standing in line at Disneyland for at least a good half an hour to an hour in the unforgiving summer sun of Southern California? Weren't those fun times? No? Well if you don't like, you could blame the whole mess on Michael Eisner and Frank Wells.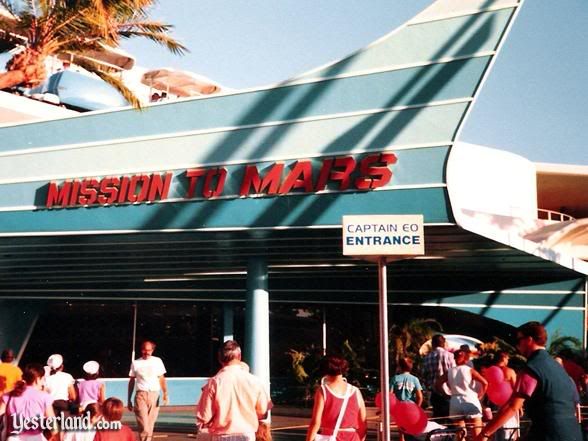 In 1984 Michael Eisner and Frank Wells took over Disneyland and mounted up on the mouse himself. They pursued an aggressive image makeover of the ailing mouse kingdom and tried to fuck it back to life. They came up with the idea of working with Michael Jackson who was at the height of his fame. He was still basking in the zombiefied glow of his hit album Thriller and had yet to feel the scandal that comes with touching a young boys penis. Michael at the time appealed to teenagers while not offending apron wearing, cookie making moms. If it was Prince it wouldn't Disneyland's non-sex image (though who doesn't want to see Prince's Captain EO or want some sugar from Snow White?). Jackson, who was such a huge fan of Disneyland that he built his very own, happily agreed. Eisner also managed to get the involvement of George Lucas who in turn got Coppola (George Lucas apparently knew he a shitty director then but for got later when the prequels came out). This was also a major lure for Michael Jackson, who idolized the famed maker of the holy trilogy, Star Wars. Two years later Captain EO was born.
Disneyland would build the Captain his own theater, the Magic Eye Theater over the previous location of the outside Space Stage and opened in May 1986 and played something other than Captain EO. Originally, they played a 3-D movie made for Epcot called Magic Journeys. The Captain would have to wait until September to change the world.
Over it's run of 10 years at the magic kingdom Michael Jackson's star faded as the world finally realized he was bat-shit insane. The Captain EO attraction fell out of touch with teenagers who thought it was, "Stupid", "Lame" and "Gay" not realizing, or not cool enough to realize, that they were watching camp gold. In April 1997, Captain EO was finally drummed out of Disneyland. This however didn't ground the Captain just yet. It was till shown in Florida, Japan and France but one by one it was replace by the highly shitty, Honey I Shrunk the Audience. The last stand for Captain EO was at the Ciné Magique at Disneyland Paris until it to was replaced in 1998 and everyone knows that when Paris asks you to leave, a place that thought Jerry Lewis was a genius, you know you have walked your last moon-walk.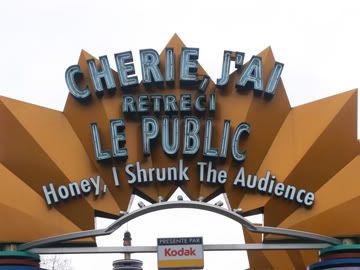 Then Michael Jackson died at the age of 50 and all of a sudden, what do you know, people are calling for Captain EO to be put back into Disneyland. These, of course, are just the nosy stirrings of the internet; but I will be holding my breath a little in hopes of the possibility. Until then, enjoy the wonder that is Captain EO at the links below.
Captain EO part1
http://www.youtube.com/watch?v=AstW05bDiQU
Captain EO part2
From the web