Last week I wrote about how film maker John Waters emerged out of suburban Baltimore in the 60′s, pack of wild friends in tow, to become the premiere architect of modern camp cinema. Today we're gonna cover the movies he is perhaps most infamous for, his self-described, notorious "Trash Trio" of films from the 70′s that made him a cult icon: Desperate Living, Female Trouble, and, the most infamous, Pink Flamingos.
Pink Flamingos (1972)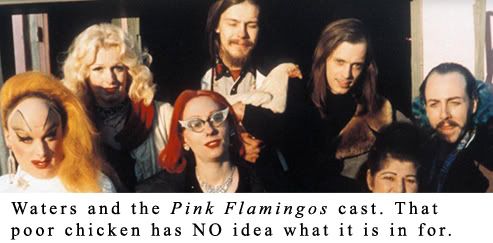 Referred to by John Waters as his "Filth Epic," Pink Flamingos is the story of the notorious "beauty" Divine, the Filthiest Person Alive. Wanted by the police for various crimes against decency, Divine assumes the alias of Babs Johnson, and hides in a remote trailer in the woods with her hippie son Crackers, who likes to fuck live chickens, Crackers' "Special Lady Friend" Cotton (Mary Vivian Pierce) who likes to voyeuristically watch Crackers in his depravity (as long as he doesn't ever touch her) and Divine's mentally retarded mother Miss Edie (Edith Massey) who is singularly obsessed with eggs and lives in an oversized play pen, wearing nothing but a girdle and bra. Everything would have been perfect for Divine and her twisted little family were it not for the nearby presence of two jealous perverts, Connie and Raymond Marble, played by Mink Stole and David Lochary.
The Marbles believe they are far filthier than Divine, and feel they deserve the title "Filthiest Persons Alive" (it's never really explained who exactly gives this title out, but really, who cares?) After all, Connie and Raymond own several pornography shops, sell heroin to the inner city elementary school children, and best of all, kidnap unsuspecting hitchhiking girls, lock them in their basement, and have their sexually conflicted butler Channing rape them and impregnate them in the hopes of selling the eventual offspring to lesbian couples. They earned that title dammit. And to prove it, they are going to humiliate and destroy Divine and her family. But they should know better than to try and fuck with Divine and get away with it.
And in a nutshell, that is the "Plot" for Pink Flamingos, for lack of a better term. Lack of plot aside, what makes Pink Flamingos unique and special is just how gleefully depraved it is. No matter how many times I've seen it (which is more than I care to admit) Pink Flamingos continues to make my jaw drop with just how low it will go for the sake of getting a burst of laughter rooted in shock. When Crackers and his date have sex with a chicken, well….they really have sex with a chicken, and then eat it. And in the film's most infamous moment, when Divine eats a dog turd, it's not a prop. That's the real thing.
But none of that gross out shock value stuff is what keeps a true Waters fan coming back for viewing after viewing. No, it's that Waters dialogue, either brilliantly delivered by Divine and Mink Stole, or hilariously butchered by Edith Massey. Pink Flamingos (along with El Topo) helped create the Midnight Movie craze, and played for years on end at several urban cinemas at Midnight showings, ensuring Water's and Divine's place in the cult pantheon for all time.

Female Trouble (1974)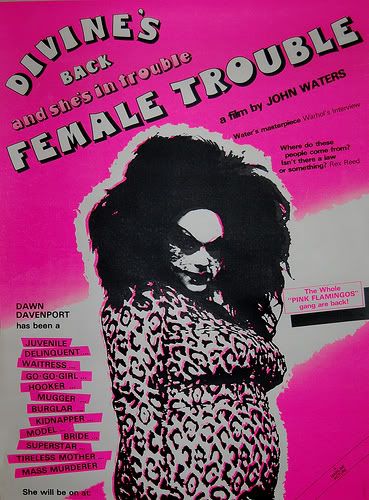 Another star vehicle for Divine, Female Trouble was made after the enormous success of Flamingos. Divine plays Dawn Davenport, a jeuvenile delinquent in 1960 Baltimore. When Dawn does not receive a pair of Cha Cha heels for Christmas, she knocks the Christmas tree over onto her mother and runs away from home, only to be raped and forced into a life of stripping and crime to pay for her and her new daughter Taffy. After being recruited in the world of high fashion by Beauty Gurus Donald and Donna Dasher, an eventual murder spree occurs when Dawn accepts the Dasher mantra that "crime and beauty are one"
Not quite as gross as Pink Flamingos (there is no sex with chickens or eating dog shit for example, although there is a close up shot of a diseased penis for your viewing pleasure) I actually think Female Trouble is better. The lines of dialogue are sharper and more venomous, the commentary on our obsession with fame by any means is more pronounced than in Pink Flamingos, and everyone by and large, gives a funnier performance. Of the classic Trash Trio, Female Trouble was initially my least favorite, maybe because it is the least overtly shocking and gross, but after many, many viewings it has become my favorite by far. Of all the old low budget films in the Waters catalog, this one was Waters' AND Divine's personal favorite as well.

Desperate Living (1977)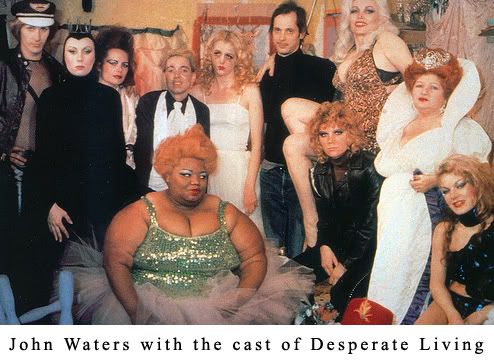 The first of the classic Waters films I ever saw, and therefore the one that made me a fan for life. So this one has a special place in my heart, even though Divine is not in it and the movie suffers somewhat because of it. Desperate Living is the saga of Peggy Gravel (Mink Stole) a suburban housewife and mental outpatient. After she and her 400 pound maid and psychiatric nurse Grizelda Brown (Jean Hill) kill Peggy's husband, they flee together to the magical land of Mortville, a place so vile they let killers live there scot free. Ruled by the evil Queen Carlotta (Edith Massey) Peggy and Grizelda are forced to live with Mole McHenry (Susan Lowe), a mean Bull Dyke wrestler who only wants a sex change operation, and her girlfriend Muffy St. Jaques, "the most beautiful woman in Mortville" played famous real life criminal Liz Renay. Eventually, Peggy and Grizelda start something of a romance. If you ever wanted to see a full on sex scene between a 140 pound white woman and a 400 pound black woman, Desperate Living is the chance you've been looking for. Eventually there are betrayals, murder, and a palace coup in Water's (nearly) all girl lesbian epic.
By the time this one rolled around though, Midnight Movies were dying out — with the exception of The Rocky Horror Picture Show which will probably never die out. Waters had to tone down his act for the mall cineplexes if he was going to survive as a film maker. It was the 80′s now, and America's wild hey day was coming to a crashing halt.

Polyester (1981) was Waters' first R rated movie, and while it contains a lot of the signature humor indicative of the early films, it is clear this movie has something of a budget and isn't just a bunch of friends making a movie in the woods of Baltimore. Divine returned after being absent from Desperate Living, and for the first time was playing a victim turned hero, not just a monster. If getting an R rating instead of an X was a shock to Waters, I can only oimagine how much of a shock it was to get a PG rating for his next movie Hairspray, a movie that would eventually turn out to be his greatest success, not once but twice.
In the last few decades, Waters had continued to make films to varying degress of success. Some, like Serial Mom, still have that old school Waters subversive edge, but others, like Pecker, just seem to have a certain something missing. In a way, Waters has been usurped for the gross out shock factor by the vile videos that end up in your email inbox like "Two Girls One Cup" and the like. But so few of those things ever have any kind of self awareness of what they are, or any kind of satirical edge. They are just gross because they can be. The humor and the politics is irrelevant.
But while John Waters may not be the cinematic upstart he once was (and who can be an upstart at 60 anyway), he has become a favorite pop culture staple and commentator. He turns up in more documentaries about pop and film culture than almost any other writer/director, and he always has a pointed comment to make that more often than not is right on the nose and causes one to laugh out loud. Be it the DVD extras for Disney's The Little Mermaid, reality true crime television, or playing himself on The Simpsons, Waters has become America's favorite creepy uncle — even to people who would never even have an inkling of what a cult film is. Every Holiday season, he does his live John Waters Christmas Tour around the country, where he regales his fans with stories of his wayward youth, like stealing presents from people's unlocked cars and Divine shoplifting a television and a chainsaw from a department store during the holidays in plain sight, when no one had the balls to do anything to stop him. Sure, most of the stories get repeated each year, but so what? How many times do people watch Rudolph or A Charlie Brown Christmas each year? It isn't like that shit ever changes.
So while I happily go see each new Waters flick, I know there is no way any of them can replace the Trash Trio for me, and I'm ok with that. Maybe Waters is more useful now as a perverse old Grandpa who shows up when we least expect him, either on tv or on stage, to remind us how fucked up our world is and that the best remedy is to laugh at it. There ain't nuthin' wrong with that.
From the web