So today was the first official day of the San Diego Comic Con, and unlike the good ol' days of the early 2000′s, a Thursday at Comic Con might as well be Saturday now, they pack so much major stuff in. So let's not waste time and get to Day One, shall we?
10:30 AM Divas and Golden Lassoes
I just barely make it in time to my first panel, Divas and Golden Lassoes: The LGBT Obession with Super Heroines. As a gay male long obsessed with female super heroes, there was no way I was missing this discussion. And a lively one it was too…superstar artist Phil Jimenez, a long time Wonder Woman super fan, told stories of some of the casual sexism he faced with DC editorial back in the day in regards to Wonder Woman. At one point, he was even asked to re draw a picture of Superman crying and being comforted by Wonder Woman after having suffered a devastating loss, as having Wonder Woman comforting her comrade and friend after a crushing blow was too emasculating for their #1 hero. "Can't he look like he is about to fly away as she's wrapping her arms around him?" they asked. *rolls eyes* One of the panelists summed up the queer obsession with Wonder Woman pretty succinctly, saying "Wonder Woman has a co-dependent relationship with her mother, wears star spanglied panties, and ties up men." Yeah, whats not to relate to??
11:30 Tron Legacy Panel
Really wanted to go to this, but couldn't get into Hall H. I heard they debuted a bunch of cool new footage and stuff. *sigh* Comic Con is like Coachella or Lollapalooza; seeing one cool thing means you can't make it to that other cool thing going on at the same time. This one stung though. If you went, feel free to tell me everything.
12PM-2PM
Wandered the floor, taking photos of the awesome (A little child dressed as Hit Girl from Kick Ass, the prop of dead alien space cop Abin Sur from the upcoming Green Lantern flick, and all the Iron Man armors from the movie) to the ridiculous (Pimp Boba Fett and Pimp Vader)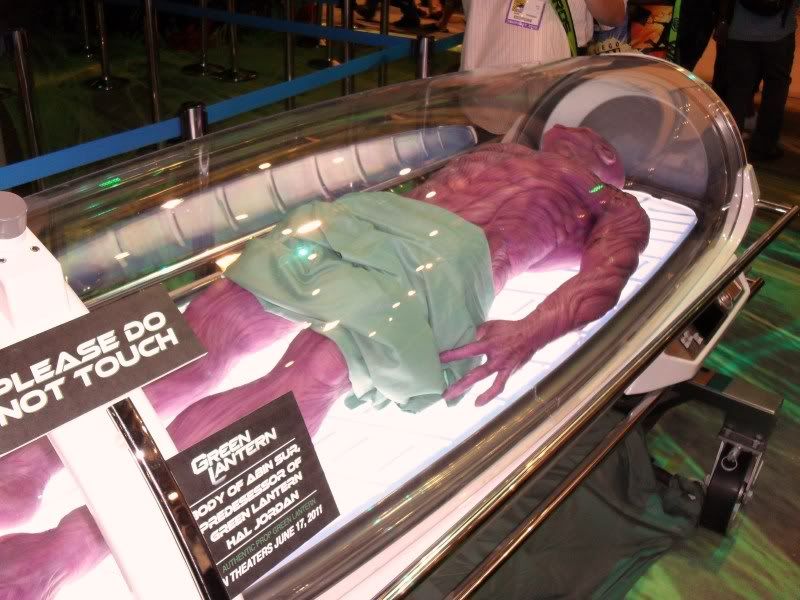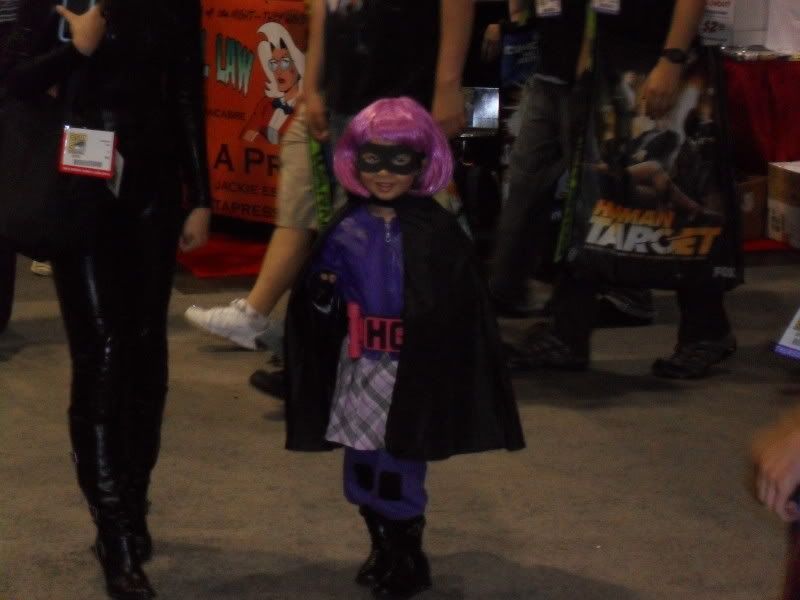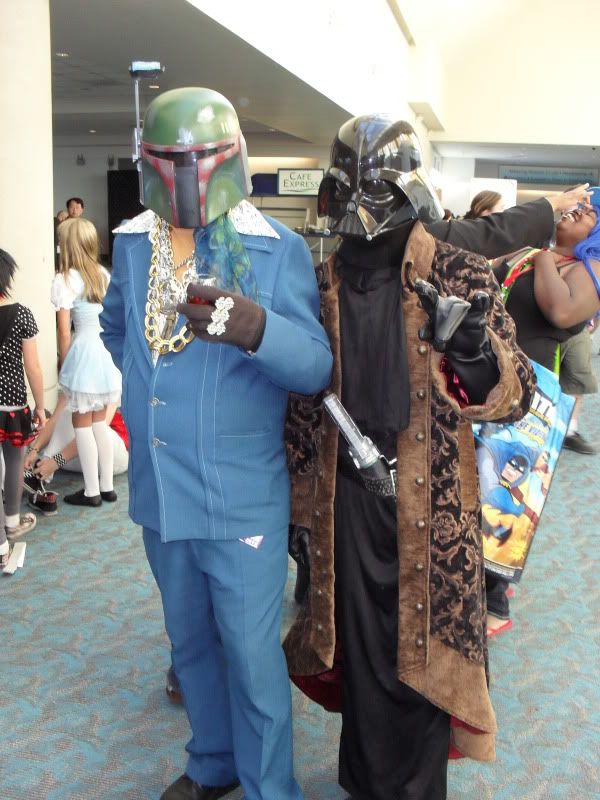 3:30 -4:30 The Visionaries: JJ Abrams and Joss Whedon
When it comes to geek television, for the past decade these two men have been the shit. Between Lost, Buffy, Firefly, Alias, Angel, Fringe and Dr. Horrible, (not to mention JJ Abrams' big screen Star Trek) if you need me to tell you anymore about these two, you have no business being on a site called Geekscape. When asked by the moderator if they themselves ever collected any geeky mementos, Abrams talked about how as a child, he worshiped the make up artists in films, and even wrote them fan letters. He wrote the legendary Dick Smith a letter once, and in response he sent him the tongue used by Linda Blair in The Exorcist. Whedon on the other hand only ever had to keep one of the eggs from Aliens, but only after having "buried the franchise" . While on the panel, Whedon confirmed the worst kept secret in Hollywood, that he is indeed directing the live action Avengers movie, to MUCH applause. When asked what his take on Avengers was, he replied "these characters she not be in the same room, let alone the same team. And that is the very definition of family" Sounds good to me. Abrams was asked about his upcoming collaboration with Steven Spielberg called Super 8, and while he couldn't say much about that project (since they have not shot a frame yet) he mentioned how at age 16 at a Super 8 Film Festival, he was aked if he was interested in repairing Spielberg's old damaged Super 8 reels from his childhood. He wondered why they didn't get professionals to tamper with Spielberg's old childhood relics, but then he was paid only 300 dollars for his work and figured that answered his question. They were both then asked about the new 3D craze and how they felt about it; Abrams seemed less enthused, while Whedon seemed to kind of dig on 3D. He was not happy however about his forthcoming film Cabin in the Woods being upconverted fro 3D, but then states to due to MGM's financial issues, he isn't even sure when that movie is even coming out. Finally, when asked about their respective companies, the unabashedly geeky named Bad Robot and Mutant Enemy, Whedon suggested "they should fight!" ….or kiss".
4:30 -5:30 DC Comics 75th Anniversary
DC Comics luminaries from the like of Geoff Johns, Jim Lee, Jeannete Khan, Denny O'Neil and the legendary Jerry Robinson (creator of the Joker and Robin the boy Wonder. Yes, he's still alive!) waxed nostalgic on 75 years worth of DC Comics. Mentioned a lot were things like Watchmen and Dark Knight, but somehow no one remembered to bring up the 1984 movie Supergirl.
7:30- 9:30 Secret Origin: The Story of DC Comics World Premiere
Even MORE DC Comics goodness- the premiere of Warners new feature length documentary Secret Origins: The History of DC Comics. As a bit of a history geek and a huge DC Comics fan, there wasn't whole lot I didn't already know here, but some of the old footage the dug up here was pure gold, much of which I had never seen, such as the first live action actor to play Superman ever, at the 1939 World's Fair. And the footage in color no less. At 88 minutes, it speeds through 75 years a bit fast, but this is still a must see for any comics fan.
And with that, a very busy and slighty expensive first day at Comic Con ends. Be back tomorrow for some 'mo from the 'flo.
From the web